Testimonials
Thank you so much
Thank you so much for the help with my sprained foot. I found John at Ennis Physical Therapy to be very knowledgeable, caring, and efficient. His therapy made a vast difference in my ability to walk normally and without pain. Thank you John again for the wonderful service you offer this community.
Sheila Joyce



I look forward to my next session
"The atmosphere at Ennis Physical Therapy is pleasant. John is ever vigilant to our well being, making sure we don't over do it. Since starting my therapy I feel energised, ready & rarin' to go! Each new exercise is challenging. And as I feel and see the results of my progress, I look forward to my next session. I recommend John highly to anyone who needs therapy and really wants to feel better."
Rory McDonnell



Full range of motion restored!
"Back pain is completely gone! Full range of motion restored! Very good experience. Well worth the time. Nice equipment, atmosphere and John was great."
Frank Shannon
A few words about us
John Earls, BSc. Applied Science, Ph. Th., MIAPT
Ennis Physical Therapy is run by John Earls who is a member of the Irish Association of Physical Therapists. John graduated from The Institute of Physical Therapy in Stillorgan, Co. Dublin with a Bachelor of Science degree in Applied Health Science and is a qualified Physical Therapist.

As a Physical Therapist, John is a health care professional who diagnoses and treats individuals of all ages, from youths to the elderly, who have medical problems or other health-related conditions that limit their abilities to move and perform functional activities in their daily lives. John examines each individual and develops a personal plan of care, using treatment techniques, to promote the ability to move, reduce pain, restore function, and prevent disability. He also works with individuals to prevent the loss of mobility by developing fitness- and wellness-oriented programs for healthier and more active lifestyles.
The Clinic which is based in Ennis, Co Clare has flexible opening hours and is tailor made to suit your Physical Therapy needs.
why choose us
Ennis Physical Therapy cares for your overall health and well-being and we share a passion for improving lives and developing personal relationships.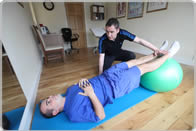 Trust Ennis Physical Therapy:
John's experience gives you confidence that you are in skilled, caring hands.

Individualised Treatment:
Tailored programs to fit your needs can often be an alternative to surgery as well as manage your pain without medication.
Treatment Programs:
We continually refine our treatment delivery systems to provide you the best care possible every time.


Convenience in Appointment Scheduling & Clinic's Location:
We offer extended clinic hours to fit your schedule and our clinic is located just outside Ennis with free parking